Armenian Letter Frequency
January 4, 2022
This is a little research about Armenian letter frequency in texts. As an example, I used the classic story of Antoine de Saint-Exupéry "The Little Prince". There is a little margin of error, because of Armenian letters "Ու" and "Եվ", which are a combination of 2 parts.
Here are the charts: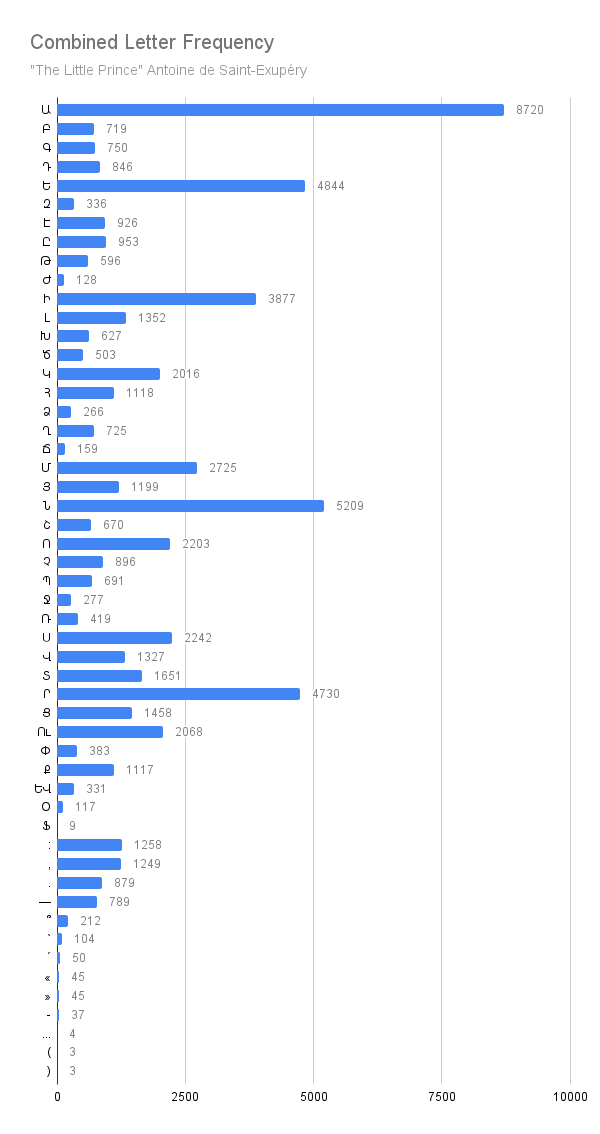 Armenian vs English: Letter frequency distribution
Let's compare letter frequency for the top 10 most common letters between Armenian and English (source) languages.
| | Armenian | % | English | % |
| --- | --- | --- | --- | --- |
| 1 | Ա | 12.89 | E | 11.16 |
| 2 | Ն | 7.71 | A | 8.50 |
| 3 | Ր | 7.16 | R | 7.58 |
| 4 | Ե | 6.79 | I | 7.54 |
| 5 | Ո | 6.38 | O | 7.16 |
| 6 | Ի | 5.63 | T | 6.95 |
| 7 | Մ | 4.02 | N | 6.65 |
| 8 | Ս | 3.35 | S | 5.73 |
| 9 | Ու | 3.13 | L | 5.49 |
| 10 | Կ | 3.03 | C | 4.54 |
| | | 57.06 | | 71.30 |